Ministry Staff
Lead Pastor
Rev. David Shaw
Pastor David began his ministry as lead pastor on Sunday, December 16, 2018.  David comes to us from the Emmanuel Church of the Nazarene in Wareham,  MA.
"I was called to full-time pastoral ministry as an 18-year old, recent convert to Christianity. For the past 35+ years I have served in six different congregations in NH, PA, MD and MA. My wife, Lynn, and I have been married since 1980 and have four adult children and one grandchild. The focus of my pastoral ministry has included all generations with a special passion for helping God's people embrace "the last, the least, and the lost" in ways that embody the transforming love and amazing grace of God. I am a curious person who wants to know what makes things work. I am a hobby-aholic  and have tried my hand at everything from woodworking to stained glass to quilting to playing the bagpipes. I am also a certified spiritual director and love being a companion on the spiritual journeys of folks who want to pay better attention to who God is and what he's doing in their lives and our world."
Email: pastordmshaw@verizon.net
Associate Pastor
Rev. Lynn Shaw
Pastor Lynn began her ministry as associate pastor on Sunday, December 16, 2018.  Lynn comes to us from the Emmanuel Church of the Nazarene in Wareham, MA.
For the first 15 years of our marriage, I served in ministry alongside my pastor husband happily and with all my heart. My own calling to full-time pastoral ministry was a midlife and a "what-do-I-think-about-women-in-ministry" process that God helped me to settle on New Year's Day 1998. I was ordained in 2005, and have loved serving in each-and-every-one of the following capacities: Children/Teens Minister, Worship Minister, Worship Consultant, Music Director, Hospital Chaplain, Nursing Home Chaplain, Hospice Chaplain, and Pastor. I have a passion for finding God's image in each-and-every person I meet, and in strengthening connections in the Body of Christ across the entire Christian spectrum to see God's Kingdom come and His will be done. My favorite place in the world is the White Mountains, and my favorite hobby, other than spending time having fun with family and friends, is finding waterfalls.
Email: vivace88s@verizon.net
Associate Minister of Missional Engagement
Rev. Isabel Gillespie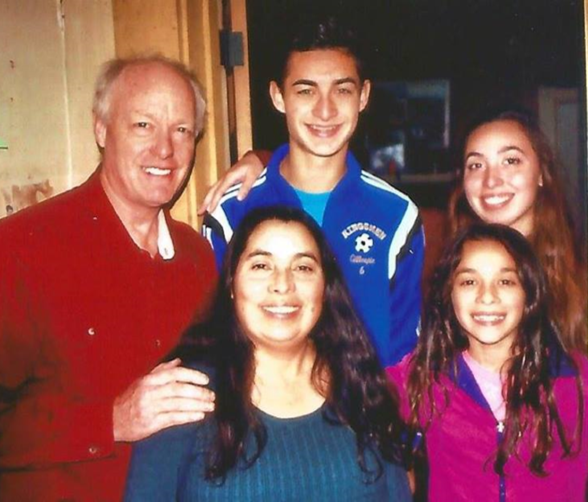 Pastor Isabel joined the New Beginnings ministry team in 2017. She is a district-licensed minister who is in the midst of classwork and practical preparation for ordination in The Church of the Nazarene. She is pictured here with her husband, Tony, and her three children; they are all actively involved in ministry here at New Beginnings. Pastor Isabel has served through teaching and mentoring women, leading a monthly children's mission program, and monthly preaching and ministering in a local nursing home.
Email: isabelayalag@gmail.com
Office Administrator
Phyllis Huntley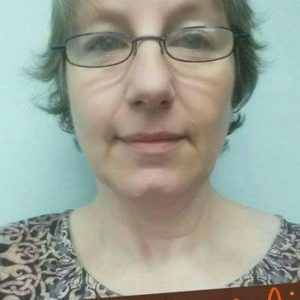 Phyllis joined the ministry team of New Beginnings in April of 2004. In addition to her office responsibilities, Phyllis has a love and passion for missions and for the discipleship of children.
Email: office.LNBnazarene@gmail.com
Ministry Teams
Church Board
Highest level of elected leadership in our church structure.
2021-2022 Church Board is made up of the Pastor, Secretary, Treasurer, Auxiliary Leaders, Trustees and Stewards:
David Shaw (Pastor) – Nyles Johnson (Secretary) – Deb Jordan (Treasurer) – Emily Adams (SDMI Superintendent) – Mike Beevers (NYI President) – Phyllis Huntley (NMI President)
Board of Trustees
The Trustees coordinate and cultivate care for our facilities and properties
2021-2022 Trustees:  Mike Beevers – Joe Johnson – Deb Jordan – Tom Spaulding – Roberta Tibbetts
Board of Stewards
The Stewards are ministers who support the members of our community, our Pastors, and our corporate worship
2021-2022 Stewards:  Lucy Bollinger – Brian Dinneen – Isabel Gillespie – Tony Gillespie – Heidi Johansen – Sherry Jones – Sheila Lantos – Shelley Wilson
Sunday School & Discipleship Ministries International (SDMI)
SDMI coordinates and cultivates our educational and discipleship ministries
2021-2022 SDMI Board:  Emily Adams (Superintendent) – Heather DeAngelis – Joyce Klittich – Gregg Lantos – Susan Masters – Roberta Tibbetts – Pastor David Shaw  (ex officio) – Mike Beevers (NYI President) – Phyllis Huntley (NMI Vice-President)
Nazarene Missions International (NMI)
NMI coordinates, cultivates, and supports both local and overseas missions in and through our local church
2021-2022 NMI Council:
Phyllis Huntley (President) – Ranée Fraser (Vice-President) – Mike Beevers – Kim Crowley – Isabel Gillespie – Sherry Jones – Vicky Kidder – Mike Matthews – Tina Owens – Pastor David  Shaw (ex officio)
Nazarene Youth International (NYI)
NYI coordinates and supports youth discipleship and fellowship ministries for students 6th – College & Career
2021-2022 NYI Council:  Mike Beevers (President), Evelyn Beevers – Kortni Cate – Noah Cate – Alex Johansen – Chase Johansen – Jennah Johansen.
ex officio Council Members: Pastor Brian Bollinger or Pastor Lynn Shaw
Finance Committee
The Finance Committee overseas income and expenses, prepares the Annual Budget, and makes practical and policy-related financial recommendations to the church board
2021-2022 Finance Committee:
Lynda Johnson (Chair) – David Shaw (Lead Pastor) – Deb Jordan (Treasurer)
Membership Committee
The Membership Committee oversees our membership records, interviews new members, and makes membership recommendations to the church board
2020-2021 Church Membership Committee
Pastor David Shaw (Chair)  – Other Committee Members = TBA